W Club
Welcome!
THE 2015 W CLUB REGISTRATION PERIOD IS NOW OPEN (THROUGH 2/16/15)!
Fashion, glamour, hot gossip, special events and exclusive products… They are all at the W Club, the Official Collectors' Club for Integrity Toys, covering Fashion Royalty®, Poppy Parker™, NU. Face™, FR:16™, Victoire Roux™, Color Infusion™, Tulabelle™ and licensed collectible dolls and figures from JEM AND THE HOLOGRAMS™*, AMERICAN HORROR STORY™** and more!
This is the W Club's 10th Anniversary and we have an action-packed year ahead, so please join in on the fun!
W Club 2015 memberships are available now through 9 PM Eastern Time on February 16th, 2015. After this time, you will not be able to register for the W Club until the 2016 registration period. We regret that we are unable to make any exceptions.
**Please note that the W Club is for collectors 18 years old and up unless they have their parents' permission.
We have one membership level to cover the entire Club and three "upgrade" doll options to choose from, including the "Aristocratic" Agnes Von Weiss® Fashion Royalty® upgrade doll, the "Groovy Galore" Poppy Parker™ upgrade doll, and the "Vice Effect" Ollie Lawson Color Infusion® male upgrade fashion figure! And again this year, every W Club member will also have the guaranteed ability to purchase FIVE Club-only Exclusive dolls including two (2) Fashion Royalty dolls (which may include NU. Face), one (1) Poppy Parker doll, one (1) JEM AND THE HOLOGRAMS™ doll and one (1) surprise doll (which may be from one of the previously mentioned brands).
Additionally, several Integrity Toys' dealers have presented many special offers for our members and DOLLS magazine is giving every 2015 member a free full year digital subscription. 2015 W Club members will also get a 50% off discount on print subscriptions to both DOLLS and Haute Doll magazines too. If you have all of the details about the Club and are ready to join, click the link at the bottom of this page to start registration. For more 2015 W Club details, please click below to download the 2015 W Club Brochure:
NEW for 2015! VIDEO PRESENTATION!
Alternately, we also recorded a video brochure that outlines this year's program.
This video can be seen on YouTube here: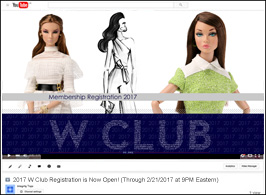 To skip either brochures and start registration for the 2015 W Club, just click the button below:

*Please note that all W Club registrations must be done through our online system. If you have any questions, please feel free to contact the W Club Liaisons prior to completing your registration.
*HASBRO and its logo, JEM AND THE HOLOGRAMS and all related characters are trademarks of Hasbro
and are used with permission. ©2015 HASBRO. All rights reserved.
**AMERICAN HORROR STORY is used under license with permission, © 2015 Fox.
Poppy Parker, Fashion Royalty, NU. Face and all other trademarks followed by ™ or ® are registered trademarks of Integrity Toys, Inc. Chesapeake City MD USA 21915. All rights reserved.
©2005-2015 Intercap Merchant Partners, LLC. All rights reserved.
All logos and images property of Integrity Toys, Inc. and/or JWU LLC. Unless otherwise indicated. Used under permission.